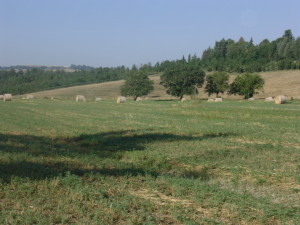 The house of the farm Torricella is surrounded by an area that is perfect for those who love rural tourism and
the opportunity to visit villages and green areas. The location, right on the Via Francigena, reflects the
harmony that the property has with the surrounding nature and the fresh green hills of the province of Siena.
An ideal place for those seeking relaxation and a chance to visit places on a human scale where time passes slowly
and where you can appreciate the traditions of the past.
San Casciano dei Bagni is only 10 km from the house, and
is a picturesque village in the countryside, known for the presence of hot springs (you will find the modern center of Fonteverde and there are also ancient public thermal baths). Near San Casciano dei Bagni there are many small villages, hamlets, farms and castles, among which is worth visiting the beautiful Castle of Fighine.
Easily accessible from the property are Acquapendente, the town in the far north of the territory of the Viterbo Tuscia, with its small town and the original Flowers Musem (Museo del Fiore), the village of Torre Alfina that, likewise San Casciano dei Bagni, is in the list of "The most beautiful villages in Italy" and is characterized by the majestic Monaldeschi Castle.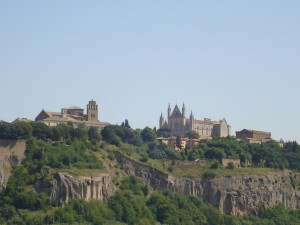 At about 40 minutes, across the Umbria border, is the beautiful and historic city of Orvieto, which is worth visiting for its old town and its impressive cathedral and the medieval quarter.
Other places of tourist interest are within an hour drive: Pitigliano, in the Tuscan Maremma, the city
of tuff which is also called "Little Jerusalem", the lake of Bolsena, the reserve of Monte Rufeno and Mount Amiata, both within a few km and both green areas that are ideal for those who love hiking in the mountains. There are numerous sporting activities that you can do in this area: hiking routes, mountain bike paths (starting already inside the property), passing through the quiet Tuscan countryside surrounded by green landscapes with olive trees and vineyards. For those who enjoy hiking and trekking, Torricella is a great place as a short distance down from the garden of the house you can already find yourselves directly in the path of the Via Francigena.