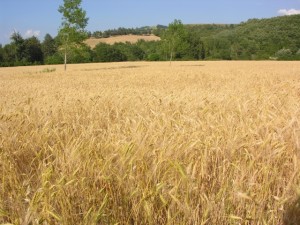 Our farm Torricella spreads on a surface of about 55 hectars and is located at about 13 km from the spa town of
San Casciano dei Bagni, in the southern part of the Siena district. The company is located in a hilly area full
of typical Mediterranean and river valley vegetation. The blooming of various plants throughout the year,
together with the mild climate, allow an excellent biological balance. The cultivation is based solely on the
organic cultivation criteria, applied on about 30 hectares. The remaining farmland is covered with reforested
areas (poplars, cypresses, ash, locust, oaks, cherry, walnut, etc. ..). Our farming activity is concentrated in the production and cultivation of organic grains (mainly barley), alfalfa, vines and fruit trees. In the vineyard, our Sangiovese grapes are predominant for the production (in our winery) of a great red wine, only for family consumption and for our guests. The products from our garden, fruit trees and forest (plums, cherries, knuckles, blackberries, lettuce, tomatoes, zucchini, etc..) are collected and used for daily fresh consumption and for the preparation of jams. The company has a shed for storing machines and farm tools and a shed for storing the hay.
At any time of year, guests of the farm can be explained about all the agricultural practices of
the major crops grown in the company (plowing, sowing and harvesting of cereals, hay, care of the vineyard / orchard, bee-keeping, etc..).
Short educational visits can be arranged to illustrate the different plant species present in the forest adjacent to the central building. The property owner can explain the use of ancient
instruments and tools of civilization and the development of agricultural processing until the current use of modern machinery.
There are excursions available in the nearby woods of Mount Cetona and the Natural Reserve of
Monte Rufeno, which lead to interesting observations about plant and animal biodiversity.
Within the company there is a cycle path, at the edge of the cultivated fields, woods, river areas, stains, turkey oak, poplar, which allow a complete immersion in a barely touched-by-human, as well as ecosystems rich in plant and animal biodiversity.